May 02 2017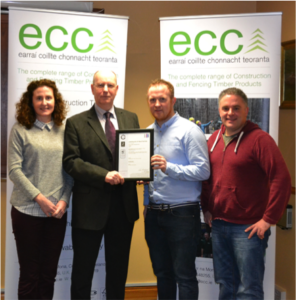 "Achieving PEFC certification further enforces our commitment to sustainable forestry and provides our customers with a complete range of fully certified timber products," said Daryl Fahy, Managing Director of Earrai Coillte Chonnacht Teoranta (ECC), the first sawmill to achieve PEFC Chain of Custody certification in Ireland.
"PEFC certification is a natural fit with our expanding business and obtaining PEFC certification proved to be a fairly seamless and straightforward process, achieved with little difficulty and few changes to our existing management and quality control systems," added Conor Fahy, ECC Quality Manager.
ECC was established in 1992 in a remote rural location in the west of Ireland in Connemara, Co. Galway and has grown to become one of the largest and most innovative sawmills in the country.
Today ECC processes about 450,000 cubic meters of timber annually. It provides direct employment for 120 full-time staff at the mill, and for a further 190 full-time staff contracted externally in the areas of timber harvesting, extraction and haulage.
A boost for PEFC forest management certification too
"While every new certificate is welcome, ECC's certification comes at a particularly important time for PEFC Ireland's development," said William Merivale, National Secretary of PEFC Ireland.
"Coillte Forest, which represents just over half the national forest estate, has held PEFC certification since 2014. We have been striving to convince the sawmilling sector of the benefits of adding PEFC to their other accreditations. This latest development opens up the field for the private sector to actively seek PEFC forest management certification as well."
"PEFC Ireland is delighted with this development and looks forward to establishing closer links with ECC in the years ahead."