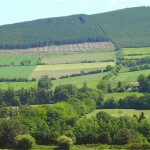 Following the formation of the PEFC Council in 1999, the Irish Timber Growers Association (ITGA) acted as its point of contact in Ireland. In early 2008 ITGA decided the time was right to form a separate corporate entity with its own governance specifically to start work on drafting a Forest Management Certification Standard for Ireland, and to promote and foster demand for certified forest products.
Accordingly, sponsored by ITGA, PEFC (Ireland) CLG was registered as a company limited by guarantee in August 2008 and subsequently applied to PEFC Council for membership. By a unanimous vote, our application for membership was accepted by the PEFC Council at the General Assembly in October 2008, with the formal transfer of existing contractual arrangements between the Certification Bodies and the Council to PEFC Ireland taking place immediately afterwards.
PEFC Ireland started trading on 1st January 2009 and has experienced continuing steady growth in the number of certified companies since then.
If you're interested in becoming certified, contact us for information.